Hi! Today I wanted to share my favorite vet clinics for dramatic play! As my daughter has gotten older, I have loved encouraging her pretend play. It's not her favorite way to play, but the more engaging materials I offer her, the longer she'll play and the deeper she will think about it. We recently got a Vet Clinic, and we both love it! I was so inspired by her play I created a resource of printable materials to add for her. You can learn more about that here.
In this resource, I listed some of my favorite things you probably have in your home (like q-tips, cotton balls and stuffed animals). I never want you to feel like offering fun play experiences has to be expensive or time consuming! You can absolutely use this resource with a few things from your home and they will have a meaningful play set up!
However, I'm often asked about things I suggest purchasing to extend play. Today I wanted to share my favorite setups or "centers." These are a great option if you want to have an area reserved in your home or classroom for pretend play. All of these items can be found in my Amazon storefront, or you can click the pictures to head to the link. When you click my link and purchase something, I receive a small stipend at no cost to you. I use this income to keep this website up and running, and to find more great ideas for you.
If you're looking to set up an actual "clinic" in your classroom or home, this is my favorite. I have this in my home for my daughter, and we love it. It's sturdy enough that I don't have to worry about it breaking, but it's light enough to move all over the house and store. It's actual footprint is pretty small. It fits nicely behind my couch, and I love how narrow it is. It would easily fit in a closet for storage. We love the scale it comes with, and the sink. I highly recommend this set! My daughter loves to put the x-rays in and out of the x-ray reader. I added some other materials to it, and she prefers those over the syringe/medicine/stethoscope included in this kit. But she loves using the actual clinic part of it, and it is a great choice for our family.
This Little Tikes Vet Clinic is VERY similar to the Sven clinic I listed above! It's a great alternative, and it's almost half the price. You can never go wrong with Little Tikes, and it will likely hold up for a very long time! I love the little storage units it come with…they would be great to use at pretend kennels.
I love this set! It's perfect if you don't want a whole area set up. We frequently use our Nugget Couch for pretend play, and this is a great example of something you could add to a pillow fort or even just use on a tabletop! We found the cards it comes with way too busy for young learners, but we love the cone, and the medicine bottles. I also really like that the animals are some what realistic.
This set comes with the vet coat and a few more materials. It's a pretty good deal!
If you have a big space in your home or classroom, and are looking for something with a lot of storage, you might consider the Melissa and Doug Animal Clinic and Grooming Activity Center. Because of it's size, this would be a great choice if you have multiple kids using it at once. One side of this set is a Grooming Activity Center, and one side is an Animal Clinic so you could have several kids playing at once. You definitely do NOT need something this big. However, if you have the space, and you know your students love pretend play, it's a great choice! It doesn't come with many accessories, so you'll want to factor that into your price. In my printable resource, I include a ton of suggestions for things you can find in your home to add to your vet clinic. It would be a great addition to this set.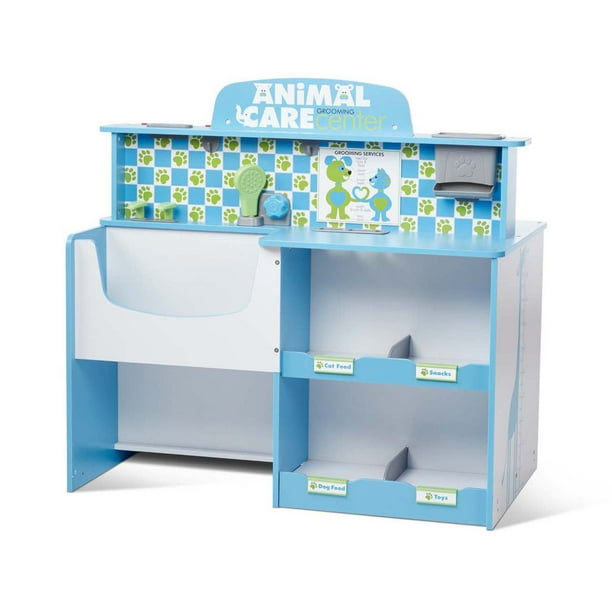 This Kidkraft Pet Doctor Pop Up is super cool, and I love that it folds up for easy storage. It has so many cool pieces, like a reception area, a dog house, and a little x-ray area. Because of it's design, it takes up quite a bit of space when it's out. BUT, several kids could use this at one time…at least 3-4. It also comes with some cute accessories, like dog treats and bowls. If you have the space for play, but are looking for something that stores easily, this would be a great choice!
The last option I wanted to show was this really neat chair cover. This is perfect for a small space, or if you aren't sure if your students will like pretending to be a vet. The chair cover includes pockets for materials, as well as a weighing station. Paired with my Vet Clinic resources, this would be a great option!
I hope this post was helpful! Don't forget, you can find all of these and other suggestions in my Amazon storefront. If you'd like to try pretend play with your child, be sure to check out my Vet Pretend Play Printable Resource Pack.
If you're like me, I love to collect ideas before I start a new project. Here's a pin you can use to save this post and come back to it later! I love to share ideas on Pinterest, and you can find my "Learning Through Play" board here.